Njord Puffin - Sneak Peak first 3'Ain EP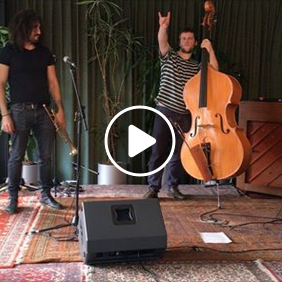 Njord Puffin by 3'Ain
Contemporary Jazz with an Oriental Twist


We were planning an avant-premiere of our first EP at the now postponed Choux-Fest on April 4th.

Since that's no longer possible, we decided to give you a sneak peak online. 

Nothing fancy. 

This is the iPhone recording of the run-through at Wildernis Strmbk before actually recording.
Unmixed, unmastered and unedited.

Keeping it real.

We like to name our songs after things we see while creating them.

When rehearsing in Oostende, where Yamen lives, what we see is mostly boats.

The title 'Njord Puffin' is the name of one of those boats.


We weren't planning on making this recording public, but these special times call for especially positive vibes.

Did you know scientists have discovered that music can play an important part in generating hope?

So there you go.

Enjoy, relax and generate hope.

Tell us how you like it on our Facebook page!
Sunday, March 22, 2020 - 12:45