What's up?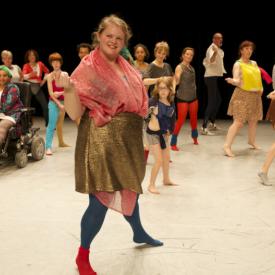 Sarah Baur and her son Viggo Maris are part of the cast of this unusal but moving piece.
(Re)discover Jérome Bel's declaration of love to the performing arts! 
A colourful mix of dance lovers and professional dancers from diverse genres and cultures perform a veritable New Year's gala.
But this gala radically questions the codes of the performing arts. 
"Gala forces audience expectations to the fore, and blurs the lines between failure and success in performance as it suggests that theater is community, both onstage and off. It's a tour de force, wildly...Read more
Jaune Toujours' latest has been a labour of love for the band. They worked with focus and determination. Again, they continue to push at musical boarders: from lazy and groovy to intensively nervous, contagiously cheery and exuberantly etnic. Music with a clear message, that can only put you in a good mood.
Along for the ride are the "compagnons de ROUTES", musical friends who have helped bring variation to the album. All are musicians with whom Jaune Toujours has a sound relation after years of collaborations: the Roma-women of Mec Yek, the hypnotic percussion of LKMTIV, the krar (...Read more