Sarah Baur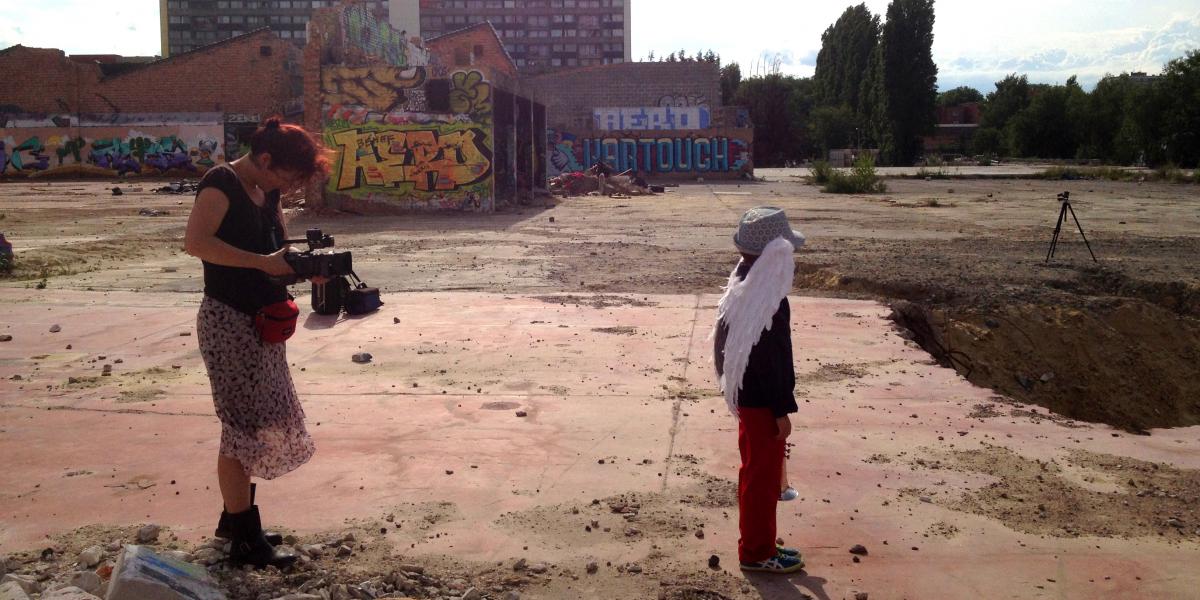 After studying film and scenario writing at the RITCS School of Arts in Brussels, Sarah Baur worked as assistant director between 1994 en 2000 (for Marion Hänsel, José Pinheiro and Julien Vrebos a.o.), as final editor and journalist at TV Brussel, as director at for promotional films for KVS and  KULeuven. She also made title sequences for Studio Ket (Ketnet/VRT) and Con Brio (TV Brussel).
In 1998, Sarah made an experimental video for the performance Kerosine / Kerosène by Dito'Dito at KunstenFestivalDesArts and again in 2004, for their performance Wanted For Love Only..
Her first short film MetaFoor premiered in 2001, with Raven Ruëll, Céline Brouckaert, Mieke Verdin, Mia Grijp, Willy Thomas and Guy Dermul in the cast. The film was made with the support of the Flemish authorities. MetaFoor was part of the multidisciplinary performance FOIRE!, which toured in Belgian cultural centers between 2001 and 2003.
Since 2001, Sarah has been directing music videos for the bands at Choux de Bruxelles: Jaune Toujours, Mec Yek and Ik en den Theo/Moi et le Théo. She also designs and illustrates their CDs and occasionally contributes to lyrics.
For Ik en den Theo / Moi et le Théo, Sarah illustrated both BOOK + CD's in 2011 and 2016.
Ik en den Theo/Moi et le Théo won the award 'Gouden Ketje 2012' (VGC) in the Culture, Sport and Youth category and the award 'Prix Jeunesses Musicales' in 2013.
Pixi Mrs. Ippi is the collective name for Sarah's creative work for and with children.
In 2013, Sarah wrote and directed Wie Niet Gezien Is Is Weg (Ready Or Not, Here You Go), a musical theatre performance for children (9+). She performed alongside of Sachli Gholamalizad / Lien Annicaert, Julie Van der Schaaf and musician Piet Maris / Hans Wellens. The performance toured in 2014 and 2015.
De Reus (The Giant) (6+), toured in 2015-2018, in collaboration with pianist / composer Peter Vandenberghe, followed in 2017 by the French version Le Géant in a translation by Valérie Callewaert.
Sarah has been coaching children in theatre and film workshops since 2014.
In 2017, Sarah, Gorges Ocloo and Dirk Verstockt co-created the theatre performance Blackfacing / Whitewashing. The performance premiered on April 29th 2017 during the festival 'I Have A Dream Exchanged' at Zinnema. This festival is part of the Black History Month and brings together artists from Brussels, London and New York.
Sarah also acts in performances and films by other directors (including Jérôme Bel, Davis Freeman, Mohamed Ouachen).
In 2019 Sarah returns to her first love: fiction film, with the award winning short film YANA. She funded the film herself and is grateful to have found a small but dedicated crew and cast, willing to contribute their time and craft generously. Sarah hopes the release of YANA will mark the beginning of new adventures in film.
YANA won the award for Best National Short Film at the Moving Pictures Festival and for Best Child Actress at the Reels International Film Festival in 2020.
2020 marks the première for PAULINE, a short monologue based on the testimony of a refugee, performed by Sarah and accompanied by paper cut stop motion films, created by Pauline and Sarah.
CLMT SHIFT ART is Sarah's first feature documentary and is about how climate change affects artistic practice. 
Benjamin Verdonck and Jérôme Bel took her along in their journey as artists, their ecological commitment and how that affects all their projects today.